Shop Now
Already know what you want?
Shop one of our online retailers.


Disc Selection Help
New players can be overwhelmed by the choices of discs... here's where we break it down for you.


Plastic Blends
What's the difference between Z and ESP? Learn more about the different lines of plastic blends we offer.


Distance Drivers
Technology, engineering grade polymers, design innovations... put them all together and you get our latest, greatest maximum distance golf discs. These discs are the cutting edge.


Fairway Drivers
Want a disc that flies far, but is easier to control? Look here.


Midrange Discs
Get from the fairway to the basket with confidence.


Putter and Approach Discs
Find the putter that's right for you.


Stability Ratings
Different discs have different flight characteristics, and each Discraft disc is rated for its overall stability. Look here to quickly understand our rating system.


Chainstar Baskets
The player's favorite!


Custom Stamped Discs
Put your design on a high quality Discraft disc!


Tournament Sponsorship
If you're running a tournament or club event, we've got great fundraisers for you.


Team Discraft
From top regional pros to World Champions like Nate Doss, these are the players whose success on the disc golf course begins with a bag full of Discraft discs. Learn more about who they are, where they've been, what they throw... and most importantly, why.


Golf Disc Flight Charts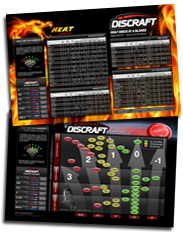 How To Video Clinics
Team Discraft pros will show you how to improve your game.


Misprints
Huge deals on misprint packages.


Disc Golf Accessories
From our popular Chainstar baskets to bags, minis and apparel, Discraft has the disc golf swag you want.


Fly Dyes and Glo discs
Colorful fly dyed and glow in the dark discs.


Resources
Here you'll find an ever-growing stockpile of information and entertainment. Logo and disc photo downloads, course installation help, photos, feature articles and more!





Choosing your First Discs


Subscribe to our YouTube channel
and catch these other popular video clinics:




The Player's Favorite
Putt with confidence. The Discraft Chainstar is available in basic, removable and stand mounted models.